Colin Tedford
Today I made basic navigation for the comics* in preparation for deactivating the Webcomic plugin, which is a step toward moving off of WordPress. They're both lovely, but I want stop storing my stuff in a database and present as much of my site as possible as static HTML. I have a lot of backlogged and new plans for this site brewing; I also have some other obligations that take priority, but I'm giving myself permission to peck away at it a little.
(which I should remove next time because it's redundant right now)
Downpower was a secondary blog I maintained from late 2007 to mid 2008, a "journal chronicling the attempt" to "make my life better for the world". The attempt and the blog were both underwhelming; the latter came to seven posts, which I've just realized are still online (I thought I'd taken the blog down). The WordPress installation is of course way out of date, which is a big no-no, so I've merged the posts and comments into my main blog, tagged them, and taken the standalone version off the Web. I hate linkrot, but I haven't learned all the redirecting magic and I doubt it'll affect anyone anyway, so as a stopgap here is a list of the posts and their old addresses:
There were also two pages of links:
Local Links
(formerly at http://www.colintedford.com/downpower/local-links/)
General Links
(formerly at http://www.colintedford.com/downpower/general-links/)
And to round it all out, here's a screenshot of how it looked: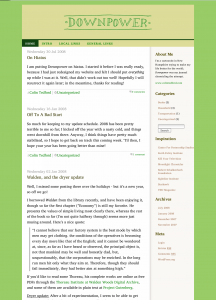 I try to always have free comics like the Zero series on hand, both for promotional purposes and just because I like giving comics away. I also like leaving them in public places sometimes. The other day a person who found a copy of Library of the Lost pinned to the bulletin board at a bank in Milford, NH emailed me to say they'd enjoyed the comic and its "message-in-a-bottle distribution, which was like opening a Cracker Jack prize". That feeling is one of the reasons I like leaving comics around, but what made this extra delightful to me is that I didn't put that comic there. I guess one of the many people I gave a copy to at Broke must have decided to share with Milford's banking public. The person who found it said they left it at the Milford library for others to enjoy. This all pleases me. :D
Visit me this coming Saturday at the Holyoke Arts Bazaar in Holyoke, MA as I belatedly emerge from hibernation for the annual Spring Tour:
I hope to see you at one or more of these fine events!